For this weeks edition of We Married Young, meet Tieka and her husband Brett! Tieka runs a wonderful little personal style/fashion blog over at Selective Potential, and she was one of the first people I thought of when I decided to start this feature! She and Brett are picture perfect (literally!) and just a great example of how wonderful it is to be married young!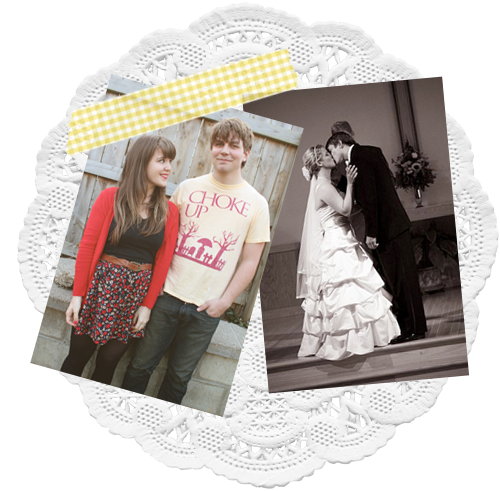 1. First of all, tell us how long have you been married and how old were the two of you when you tied the knot?

Brett and I have been married for almost four years! I had just turned 21 and Brett was 22 when we were married!
2. Tell us a little backstory! How did you and Brett meet and how long did you date before getting married?
Brett and I had been friends for quite a while before dating. I met him when I was 17 and he played drums in a punk band! I used to go to his shows just to see him! Eventually we met again at a show when I was 19, started hanging out and it was all downhill from there. We were dating for six months when he asked me to marry him. Whirlwind romance!
3. Some people might say you got married a little too young (it's been said to Nate & I!)- did you receive any negative feedback on your choice to get married at a younger age or were you surrounded by support?

It was a lot of half and half. His parents couldn't have been more thrilled for us to get married, and even though my parents "supported us", I could tell they were nervous about me getting married so young. All of our friends were highly supportive, but you could always tell people thought you were marrying too young. It's just important to know that you two know you're ready, and it doesn't matter what the rest of the world thinks!
4. This is the time in our lives when most of us twenty-somethings are truly finding ourselves and our purpose, through education or by other means. Have you found it harder or easier to work toward your goals as a married woman?

It has been much easier to accomplish other goals in my life (like graduating from college, finding an amazing career, running a blog) by being married. I don't have to worry about dating, or setting aside time specifically so Brett and I can meet up and go out. It's wonderful to go home to him, we hang out, we get what we need to done and we can focus on other things. We still spend all of the time in the world together, but it just makes it easier to not have to 'date' or worry crazily about a social life. I don't know if I'd be where I'm at without marriage, honestly. I might still be chasing boys and putting off my school work
5. Life is fast paced when you're trying to accomplish so many things and maintain a vibrant and fulfilling marriage at the same time! Do you have any tips on staying connected to your significant other with so much going on?

I try to include Brett in every aspect of my life. Of course we are apart when I was in college full-time, or when I'm working, but we do most everything else together. Things like running errands, going to the grocery store, shopping, we do all of those things together and it's way more fun that way. Plus, I include him in so much of my blog – he takes all of my photos and we're usually watching TV together when I'm trying to catch up on emails or blogs. We also play in a band together, go to shows together constantly, see movies. We're together so much, even though we're both so insanely busy. Plus Brett is such a laid-back guy and I can take off for a weekend to Chicago for blog-stuff or to hang out with a girlfriend, and he's amazing about it. We text and chat all day long. We just have really great communication with each other.
6. What are your favorite things to do as a married couple? Have those things changed a lot or stayed the same since the dating days?

Things have definitely stayed the same – if not have gotten more fun – since we've been married. We love to go to the movies, walk downtown and grab ice-cream, scoot together, take adventures and trips around Michigan, travel, play in bands, go to shows, hang out with friends, go camping, check out lighthouses, go to amusement parks. We're honestly still kids! We were that way when we were dating – but now we get to have fun sleepovers constantly and spend more time together now that we're married!
7. Did getting married change anything (relationships, lifestyle, etc.) in your life that surprised you at all?

When I was growing up, I had way more guy friends than girlfriends, so that was an adjustment! Going from hanging out with mostly guys, to only one guy. Brett and I hang out with the guys in his band and our band constantly though and that's honestly when I feel most comfortable! It was also a big adjustment living together, because we didn't live together before marriage. So I was not used to dirty clothes, dirty dishes and everything else dirty around the apartment.
8. Are the first few years really the hardest?

Absolutely. Our first year was definitely the hardest. I know you're supposed to be in this 'newlyweds honeymoon' stage, but we struggled! We also lived in a house that was falling apart, in an area that we couldn't stand. I also had to take a break from college to catch up on finances and it was a damper on both of us. We argued about cleaning, chores, food… it took a while for us to get adjusted to being married! Our second year was so much better, our third year has been amazing. I suspect our fourth year will be even better yet. We have truly truly grown together, which is the best thing you can do in a marriage.
9. And I think it's safe to say that everyone wants to know.. when will there be babies?!
Are you choosing to wait until a certain goal is accomplished, a particular age, or just for the "right time"?

Ahhh, babies.
Brett definitely has 'daddy fever' and I'm not even close to being ready! We were always waiting for me to obviously graduate from college, then it was find a career I could settle myself in, now it's "I need to get settled in my career", but I don't think I'll be ready for a few years yet. I still feel SO young… like I couldn't have kids, because I'm still a kid. I still have to get so many ducks in a row – financially, mentally. I still want to buy a house, get a puppy and be more 'settled' before we have kids. Plus, I'm really enjoying spending so much time on my blog, traveling, playing in a band, hanging out with friends, picking up and going whenever I please. I just want to feel completely ready before I have kids.
10. Lastly, if you could give one piece of advice to a young couple who were thinking of getting hitched, what would it be?

I would say just make sure you're right for each other. I know that sounds lame, but sometimes couples rush into marriage because they are so "in love" when really there are so many differences in their lives. I've seen so many friends/acquaintances get divorced already because they married even with different views on things – like finances, life goals, kids, religions, whatever – but they were "so in love". Brett and I are like the same exact person on views and we're best friends and we have a lot of fun together – that's why we're able to work through periods where the romance might not be at it's peak. You also have to marry someone who you know will support your goals. I started my blog after we were married for a couple of years, and if he wasn't such a supportive person, this whole endeavor could be really hard on us, but it's not because we support each other in anything. Brett played in a hardcore band for the entire duration of our marriage and I went to every single show. It's just important to marry someone you can spend every day with, support each other and have fun in the process.